Share
Like this site? Bookmark & share it:
Crochet Books
Below are reviews of some of our favourite crochet books. We'll be adding more books over time, so keep coming back.
love...Crochet. 25 Simple Projects to Crochet by Carol Meldrum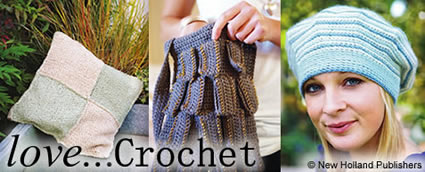 Simple but stylish projects that will suit the beginner or anyone who wants some simple but modern crochet designs.
I especially liked the glove and hat patterns. The homeware items are also very stylish. The book also contains a couple of patterns for felted crochet items - a stylish bag and an unusual scarf.
There is a useful 'how to' section at the front of the book. The book uses UK crochet terminology.
Crochet So Fine: Exquisite Designs with Fine Yarns by Kristin Omdahl
I love the extremes of crochet. Thick stiff fabric for bags and homewares or ethereal, wisps as light as a feather. The crochet patterns in this book are definitely at the light and floaty end of the scale. The designs are beautiful. Show stoppers but still very wearable.
The 20 patterns include fantastic shawls, cardigans (such as the Petal Wrap cardigan shown on the cover), hats, scarves and tops.
There are some quicker crochet projects in the mix too.The patterns also give you a chance to branch out into different areas of crochet such as Tunisian crochet and broomstick crochet.
As with all Interweave books there is helpful 'how to' information. Uses US crochet terminology.
Austentatious Crochet by Melissa Horozewski
36 Contemporary Designs from the World of Jane Austen
This book is tremendous fun. Taking the world of Jane Austen as it's inspiration it delivers some rather romantic crocheted designs.
Designs range from a delicate crocheted necklace to garments with some unusual design elements that give a real flavour of the era. The book includes crochet patterns range for accessories, homeware items and garments for adults and children.
The Jane Austen trivia and quiz questions that are sprinkled through the book made it an ideal gift for any crochet loving Jane Austen fan.
Uses US crochet terminology.
Custom Crocheted Sweaters by Dora Ohrenstein.
Make crocheted garments that really fit you by adapting crochet patterns to suit your body shape.
If there is a frustrated crochet designer in you trying to get out then this book will help.
Custom Crocheted Sweaters is getting glowing reviews everywhere.
It also contains 10 original patterns to get you started including a shrug, cardigans a vest and a lovely open motif tank top.
Uses US crochet terminology.
Uncommon Crochet by Julie Armstrong Holetz
If you fancy trying some different crochet fibers, then this is a great place to start.
The book contains 25 projects using natural yarns such as sisal and hemp. It also uses alternative fibers such leather twine. There are also some felted (fulled) crochet patterns too.
Some of the projects involve some sewing as they combine fabric and crochet elements to great effect.
Uses US terminology, but it does have a 'how to' section and a table of US vs UK crochet terminology.
The Crochet Answer Book by Edie Eckman
The subtitle is 'Solutions to every problem you'll ever face. Answers to every question you'll ever ask.'
Good diagrams and clear explanations. The book is pocket sized so you can throw it in your work bag and never get stuck again.
It covers all the basics from making stitches, working in rounds and increasing/decreasing to working with colour. It also covers more advanced stuff such as adding beads to your crochet, making stuffed crochet buttons, tunisian crochet and double ended crochet.
Uses US terminology, but it does have a table of US vs UK terminology.
From Needles to Hook: Complete Guide to Converting Knit Patterns to Crochet by Donna Scott
It's a sad fact that there are more knitting patterns than crochet patterns. Seeing a lovely pattern and then realising it it knitted not crocheted can be frustrating.
This book will help redress the balance. It gives a comprehensive guide to achieving a similar look and drape to various knitting stitches but using crochet.
There are projects included in the book, but the book is really best for the inspiration it will give any budding crochet designer.
Uses US crochet terminology.